Book an unforgettable summer experience
OBS! We also offer specialt tours for groups or other departures. What about hiking to Maadther Ajjas old settlement, where we make a traditional dinner ower the fire or what about hiking in the surrondings an learn how to see old tracks from the historic reindeerherding. Of cause you can also combine different guided tours.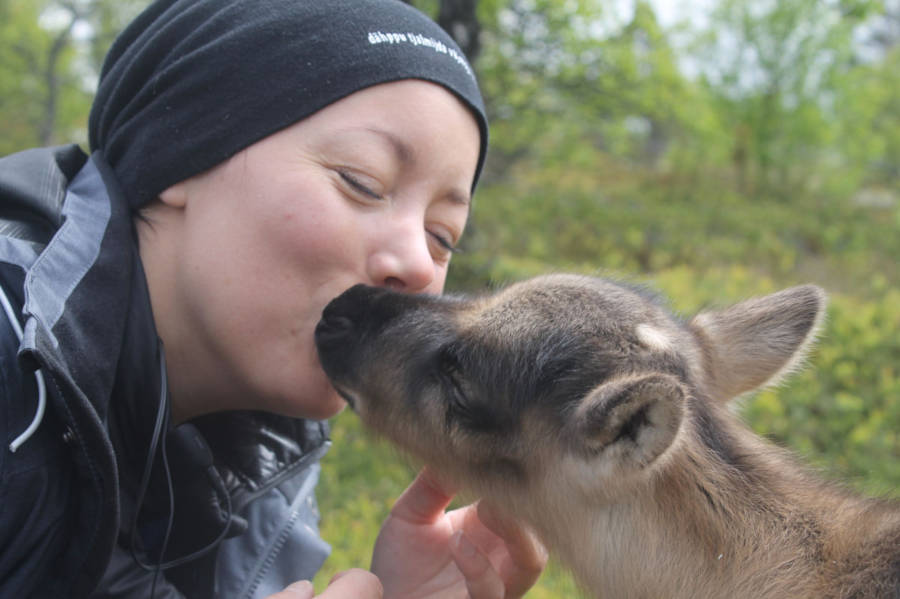 Meet our tame reindeer and the new reindeer calf for this year. Experience the feeling when they eat directly from your hands. Listen to  stories about how fantastic the reindeer really are – fully adopted to the arctic climate. Did you know that they can see things our eyes can't? Monday-Friday 10-11 AM
Price: Adult: 250 SEK, Child up to 12 years: 150 SEK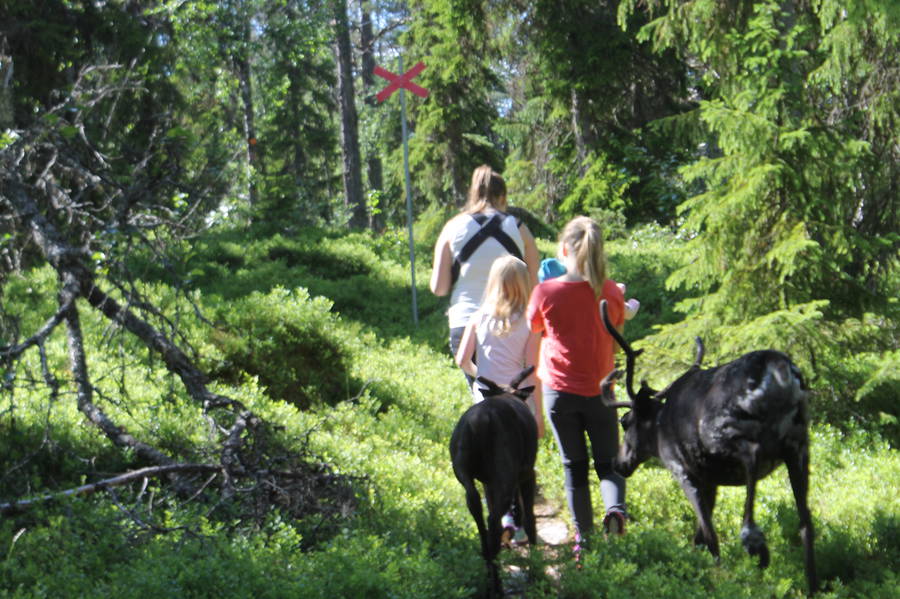 Experience the reindeer up close, when we hike together into a historical forest and learn about the Sami culture.  A favorite for both young and old. Enjoy a "sámi fika", coffee  with reindeer meat in the cup and different delicacies from the reindeer is included. Tuesdays, Wednesdays and Thursdays 2-4 PM
Price: Adult: 550 SEK, Child 6-12 Years: 250 SEK
Hike to Maadther Ajjas old settlement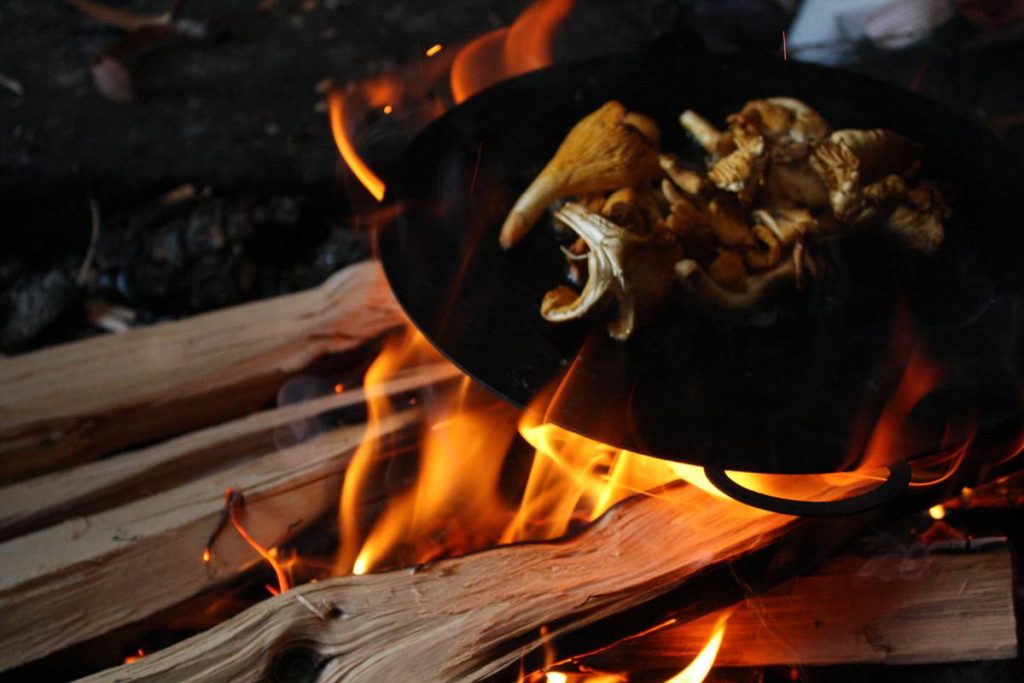 This is a magical experience, where you will have the feeling of staying in a uniqe old sami settlement, Gåetije.
We hike together to our grand, grandfathers summersettlement, where he stayed with his 10 children, workers and dogs
The Gåetije is privat and are only open during our guided tours.
You will be served a meal from the sámi cuissine and coffee made over the fireplace togehter with stories from the historical life as a reindeerherder.
The hiking will be about 30 minuts in a lightly stonely path.
Mondays kl 12.00-15.00
Price: 890 kr/ pers. priser: Children: Phone or mail  us.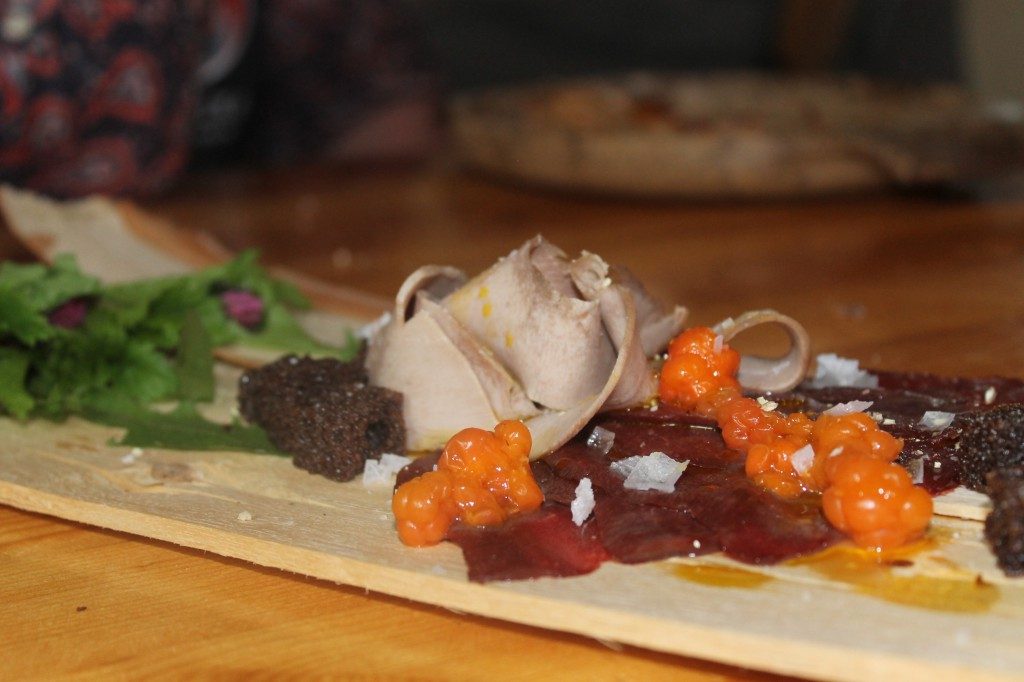 Enjoy a 8 dishes sápmi dinner through our 8 seassons together with stories how the year differs as a reindeerherder. The dinner will be served  in a unique environment not to find in any restaurant.  The decorated tables placed in our big tipi together with the fire and the nature upclose makes the feeling magic. An experience for all of your senses and a memory to remember a long time, also suitable for those who has problems with walking. Wednesdays  at 18.00
Prices: 1250 skr/persons. Kids up to 12 years 30% discount.
If you want to spend the night in a tipi, thats possible for 1500 SEK/ tipi.
Taste of Sápmi and sleeping in a tipi Enjoy the peacefullness of sleeping on reindeerfurses around the sparkling fire. Wood and reindeerfurses included. Pris: 1500 kr/ natt och kåta. Sleepingbags: 250 skr/person Make your own dinner of the samicousine.  In this way you will have the possiblity to in fun and simple way make your own tre dishes dinner inspired from the samicousine. The main products are from our own reindeermeat and the other products from the season.  Most of it is premade so you will very quickly and easy get the dinner done. The package includes: ingrediencies,  recipes for a three dishes dinner, place to be in our tipi and all you need for making your dinner. Booking lates 24 hours before. Pris: 690 kr/2 person. All days except Wednesdays and Fridays. A Sami basket for fika.  The basket includes all you need for making the sami way of coffee, tea or lemonade and a cake made from the flower Kvanne served together with cloudberries. Pris: 175 kr /2 person
Du kommer träffa renar

Aktiviteten innebär vandring, skidor eller snöskor

Du kommer lära dig massor om renar och samisk kultur
| | |
| --- | --- |
| | Kaffe med tilltugg ingår |
| | Samisk måltid ingår |
| | Övernattning ingår |
| | |
| --- | --- |
| | Aktiviteten erbjuds under sommarsäsong |
| | |
| --- | --- |
| | Aktiviteten erbjuds under vintersäsong |
| | |
| --- | --- |
| | Aktiviteten erbjuds under höstsäsong |