In the middle of the mountainarea far from civilisation, there is a wonderful farmerplace from the late 1700s. A place that are known for its nature beauty.
Here is accomodation for those who who want to get away from everyday stress and experience silence and peasefullness.  A paradise for those who want to come "back to nature".
Fishing is found both in Foskans river and in the lake Ståltjärnarna.
Modern facillities such as electricity and water are missing, but a cold spring flows through with water clean to drink, The river also works as a refrigerator.
Cooking takes place on wood stove or gas stove. The cabins are equipped with everything needed in a kitchen, as well as duvets and pillows. Bed linen and towels are also available for rent.
You can rent Lillstugan (2 pers) or Storstugan (7 pers) or both.
Avstånd

8 km vandring från Lövåsen
12 km vandring från Foskros

Att ta sig hit?

Sommar: Vandring Vinter: Skidor/snöskor. Skotertrafik endast tillåten vid guidning av oss.

Köksutrustning

Gasspis, vedspis, gasolkamin, köksutrusning, täcken och kuddar. Sänglinnen kan hyras.

Bekvämligheter

Utedass, ved, diskutrusning. Mejeribua fungerar som ett gemensamt kylskåp och "Störröset" är ett gemensamt eldhus att bl.a. tillaga mat i.
Lillstugan (the small house)
| | |
| --- | --- |
| Antal bäddar | 2 st 100 cm breda sängar |
| Antal rum | Endast 1 rum |
| Priser sommar | 400 kr / natt och 2000 kr / vecka |
| Priser vinter | 600 kr / natt och 3000 kr / vecka |
Storstugan (the big house)
| | |
| --- | --- |
| Antal bäddar | 7 st varav 1 våningssäng, 1st 100 cm bred säng samt 4 madrasser på loftet. |
| Antal rum | 2 st samt sovloft |
| Priser sommar | 750 kr / natt eller 3500 kr / vecka |
| Priser vinter | 950 kr / natt eller 4500 kr / vecka |
We recommend that you bring sheets, matches to the wood stove, candles and a headlamp.
Walking directions from Lövåsen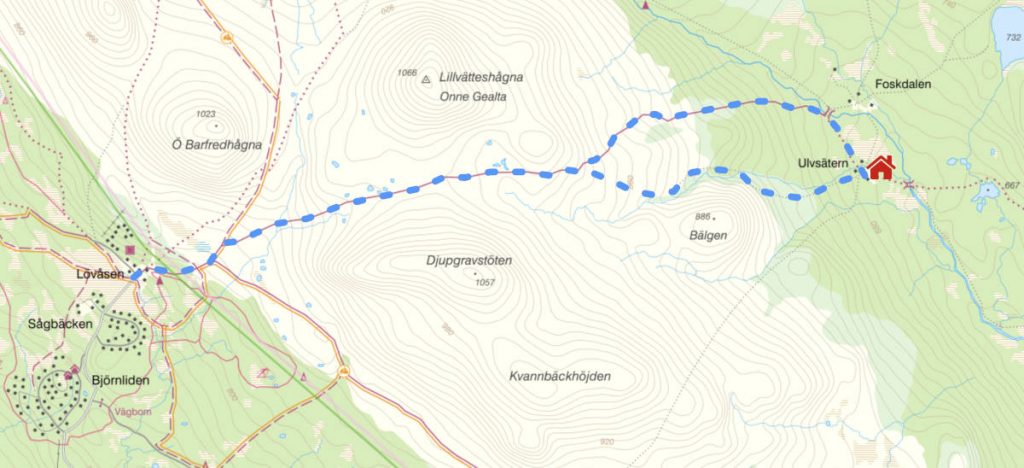 Walking directions from Foskros